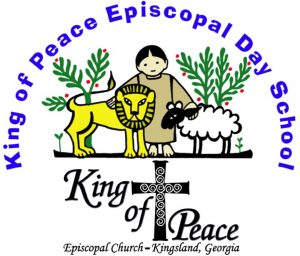 The Preschool is a happy, safe, and loving Christian environment for children from age 18 months through five years. We are meeting the need in our area for full-day, full year preschool where education, including Christian education, is the central part of our mission.  We are a school with convenient hours, helping children reach their full potential for school readiness.
KOPEDS recently earned National Accreditation by the National Association for the Education of Young Children. This honor places us among the top preschools in Georgia. We are the only non-profit program in Camden County to achieve this recognition. We are also Quality Rated by the State of Georgia.

_______________________________________________________

The full-day, full-year preschool has a maximum enrollment of 71 children, ages 18 months through 5-years old. We are open Monday through Friday from 6:30 a.m. to 6:30 p.m. The Day School currently has space available for the 2016/2017 school year in the toddler class.  Limited spaces are also available in the Private Pre-K program for the upcoming school year, beginning Monday, August 1, 2016. Half-day and part-time toddler positions as well as half-day pre-k positions are available.  Please contact the KOPEDS office for more information.  Please call 912-882-7067, email kopeds@gmail.com, or stop by for a tour! No appointment necessary. 

Our bi-weekly tuition is $330, which includes before and after care for the Pre-K students.  New student registration is $200, with $100 applied to the first week's tuition.  
Limited financial aid is available on the basis of need.
_____________________________________________________________________________________________
Our Staff
Our staff bring exciting ideas and years of experience in preschool education to our school. But don't take our word for it. The State of Georgia has named our school as one of the top programs in the state and a model for other preschools. The school provides a loving, engaging and educational environment.  Our lead teachers have a combination of CDA and bachelor's degrees and exceed annual requirements for additional professional development.    
King of Peace is currently accepting applications for a lead teacher and teachers' aides, to begin July 2016.  Please email resume to kopeds@gmail.com or contact the director at 912-882-7067 for more details.

Our Curriculum
Our preschool uses The Links to Literacy curriculum (enhanced with Christian education) to make sure the children are well-prepared for entrance to kindergarten. Links to Literacy is a research-based comprehensive curriculum designed to provide a strong foundation for early literacy development in preschool children. The curriculum is adapted to meet the individual needs of each individual child and the developmental ages and stages of each classroom. Each objective of the curriculum is a small step towards achieving the goals and standards for school readiness. The thematic approach used in the curriculum readily allows for the integration of eight learning domains, language, literacy, mathematics, science, creative arts, social and emotional development, approaches to learning and physical and health development. Teachers are encouraged to use other resources to supplement the curriculum with approval of the Director. KOPEDS enthusiastically encourages family involvement, through participation, family questionnaires or objects to be brought from home to support the theme units. Children's Church is offered twice a month, hosted by the President of KOPEDS Board of Directors and King of Peace Episcopal Church Rector, Fr. Al Crumpton. Families are welcome to attend this 15-minute service, geared to reach students on their level. Godly Play will be introduced in the 2016-2017 school year, www.godlyplayfoundation.org. 
Our Students
Students are admitted to the KOPEDS regardless of race, color, sex, disability, religion, national or ethnic origin and to all the rights, privileges, programs, and activities generally accorded or made available to the students at the school.
Students must be 18 months old to be eligible for admission. They are required to be toilet-trained upon entering the 3 year-old class. The students reach the end of our program at the age of 5 years old.
KOPEDS follows the same age enrollment guidelines as public schools. Classes are full-time and divided as follows:
Bee Class – Children 18 months to 2 years
Duck Class – Children 2 – 3 years
Turtle Class – Children 3 – 4 years
Frog Class – Children 4 years old
About the School
The preschool and church are located at 6230 Laurel Island Parkway in Kingsland, just west of Camden County High School. 
Future Plans
King of Peace Episcopal Church created the Day School as an independent non-profit corporation to meet the growing need in Camden County for education alternatives. The school purchased 11.7 acres of land near the intersection of Kings Bay Road and Colerain Road for the new private Christian school we envision. While The Preschool will remain at King of Peace Church, the new school will begin with a K-2 program and expand each year for several years, eventually becoming a K-8 school. 
Want to know more about King of Peace?
Click here to go to our parish home page, where you can find out everything about King of Peace.
_________________________________________________________________________